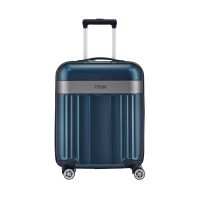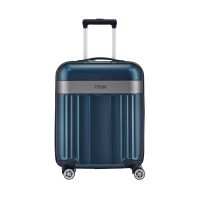 Color: North Sea [22]
Size: 37 Liter
More articles from +++ Titan +++ to look at
product description
Product Number:
831406_tit22sf
Travel like a super model and make a fashion statement with Titan´s stylish Spotlight Flash suitcases. Fancy colourways, an extravagante silhouette and an elegant bezel in brushed aluminum look turn the cases of this collection into real eye-catchers on the catwalk. Their outer shell of ABS and polycarbonate not only ensures a glamourous appearance, it also provides excellent protection for your belongings. Also when it comes to functionality these suitcases have earned their place in the spotlight: A recessed TSA lock grants the necessary security especially for travels to the USA and - no matter how many outfits you carry - the Spotlight Flash glides along effortlessly on four large, sturdy wheels. On the inside two separate packing chambers with cross ribbons and a divider panel keep everything tidy and clearly arranged to ensure that even delicate clothing reaches your destination safely and wrinkle-free.

- Luggage with strict cabin size up to 55 x 20 x 40 cm*
- 4 large, smooth-running dual wheels suited for every surface
- Roomy main compartment with convenient 2-way zipper and 2 packing chambers; on the inside 2 cross ribbons, integrated zippered divider panel and side zipper pocket for smaller items
- Integrated TSA combination lock for comfortable travelling to the USA
- Adjustable telescopic double-tube handle with arrestment knob
- Robust top carrying handle
- Made of durable ABS with glossy polycarbonate finish
- High-quality lining
- Premium bezel in brushed aluminum look with Titan logo

* Please be sure to check individual terms and conditions with your airline before embarking on your trip.
Carry-on with 4 wheels S 55 cm Spotlight Flash 37 Liter