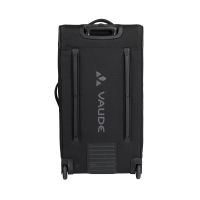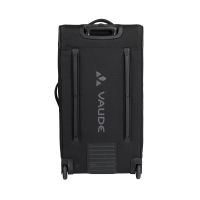 Color: Caramel [133]
Size: 90 Liter
More articles from +++ Vaude +++ to look at
product description
Product Number:
142471330
Off to the islands! The Rotuma suitcases and wheeled travel bags are designed for adventure and good for the environment. Inspired by Caribbean beaches and the sumptuous colors of South Sea islands, the pieces of luggage of Vaude´s New Islands range sport bright colours and a sustainable design. With Rotuma 90 you´ll have maximum space for all your travelling must-haves. Just like the medium-sized model the large travel bag comes with two clearly arranged packing chambers with dividing sheet. The frontal part grants quick access to all essentials via a separate zipper opening. Plus, a reinforced bottom and the sturdy edge protection grant this bag extraordinary stability, while several carrying options ensure convenient handling - even if Rotuma is packed to the brim. Smooth-running wheels, a comfortable telescopic wheel handle and an extra, padded top handle ensure relaxed travelling to your destination. The silent wheels in particular are truly practical and can be easily replaced should something happen to them. The range´s characteristic tarpaulin fabric is now completely PVC-free and comes with a water-repellent, PFC-free Eco Finish treatment. Plus, the manufacturing process matches Vaude´s Green Shape guidelines - excellent for your health and the environment!

- 2 smooth-running, silent wheels that can be easily replaced
- Roomy main compartment with lockable 2-way zipper, 2 packing chambers and dividing sheet for organised packing (lock not included)
- Frontal packing chamber with additional zippered quick-access on the front
- Front zipper pocket
- Adjustable telescopic double-tube handle with arrestment knob
- Robust, padded top and side carrying handles as well as 2 extra handles on the front
- Reinforced bottom and edge protection
- Eco-friendly, polyester-based tarpaulin fabric without PVC and back panel made of recycled PET bottles
- Eco Finish: water-repellent without PFC
- Eco-friendly and ressource-saving manufacturing process in accordance with Green Shape guidelines

Vaude has granted one of their best-selling ranges a contemporary design update: In a new design and bright colours, these innovative, sustainable bags feature so many practical highlights that you´ll just have to have one for your next (island) journey. The new models are based on the popular Tobago suitcases, but have much more going for them in terms of environment protection. Made of PVC-free tarpaulin fabric and recycled PET bottles these products meet the high standards of the Vaude Green Shape guidelines for an eco-friendly and ressource-saving manufacturing process. Moreover, all models feature Eco Finish, which makes the bags water-repellent - completely without the use of environmentally harmful fluorocarbons (PFC). Durability and customer-friendly repairability are also important aspects for Vaude product development. Therefore, parts subject to wear such as telescopic handles or wheels can be replaced in a few simple steps.
Roll travel bag with 2 wheels Rotuma 90 New Islands L - Carmel